SBAC-PAD 2007 Awards
Click here to see the awards results of the conference.
SBAC-PAD 2007 Workshops
Click here to get the workshops that will happen during the conference.
Parallel Programming:
You can check the updated rules and awards of the Marathon and the already started Open Contest. In order to submit your proposal for the Open Contest, click here.
Featured Photo: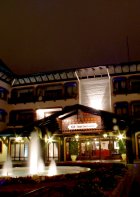 Previous Editions:
Click here for previous editions of SBAC-PAD and to access their conference proceedings.
Conference Hotel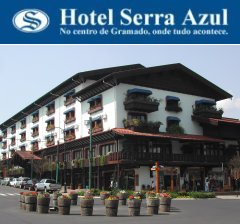 Hotel Serra Azul
Rua Garibaldi, 152
Gramado - RS - Brazil
Phone: +55 (54) 3295 7200
Fax: +55 (54) 3295 7272
SBAC-PAD 2007 will be held at the Hotel Serra Azul. The hotel is equipped with a Conference and Exhibition Center for 1.100 people, including high speed internet connection. Click here for photos of the hotel.
The hotel is located in the heart of downtown Gramado and within walking distance of the main tourist attractions. The city is also known for hosting the most important film festival of Brazil and Latin America, since 1973.
Conference Room Prices (with breakfast):
Update October 11, 2007: The prices of the category "Superior" were changed to the prices of the category "Special". This arrangement was made by the organizing committee due the high search for the rooms.
Taxes applicable to all rates: 10%. An additional tourist tax is applicable with the amount of R$ 1.5 (Convert to US Dollars) for each appartment/day.
Reservations
Reservations are done directly with the Serra Azul Hotel through their online form, available here. After sending the form through the "Submit" button, the hotel will contact you through the e-mail provided in the form. To obtain the room prices available here, the participant is invited to inform the hotel that the room is for a SBAC-PAD participant.
Transfers
Information about transfers from the Salgado Filho International Airport, at Porto Alegre, to the conference hotel is available here.