Local Information
Map from the airport to the Conference Hotel
(~7km: R$20,00 taxi ride)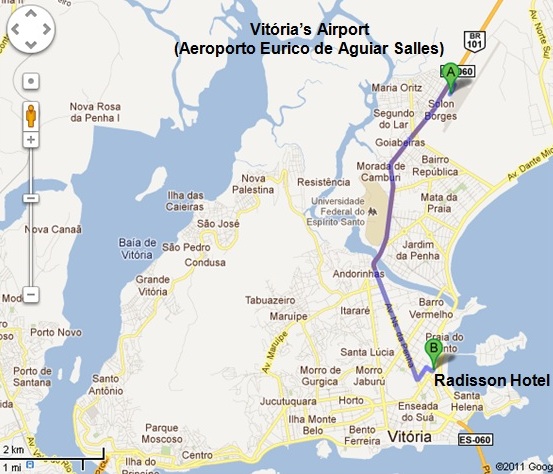 Conference's local map
Veune's Neighborhood - restaurants, etc.
Nightlife region - restaurants, etc.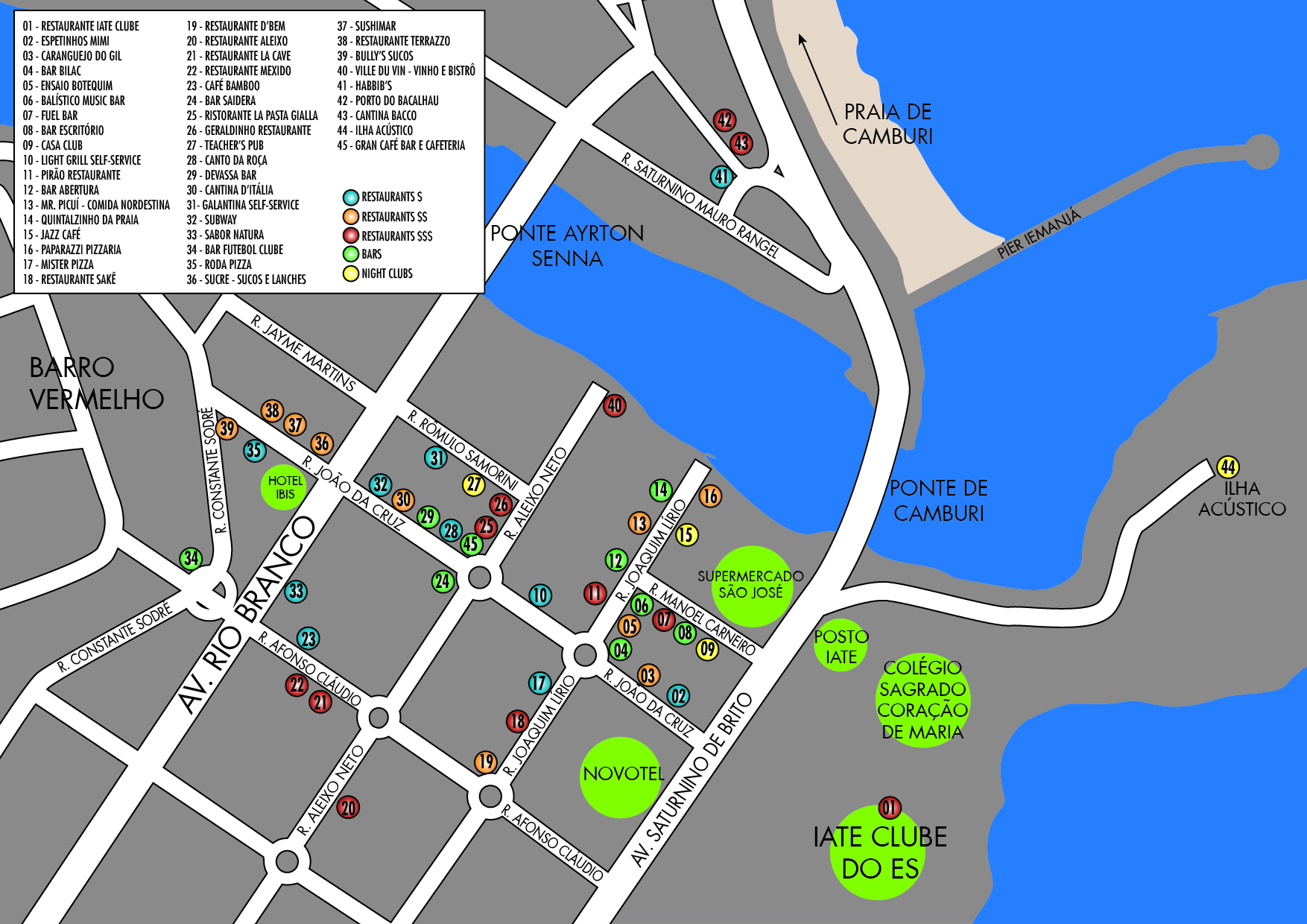 Map from the Conference Hotel to the Conference Dinner Venue
(~300m: five minutes walk)
The city of Vitória has completed 460 this September 8th
Flight time to Vitória
Rio de Janeiro - 45min (direct flight)
São Paulo - 1h25min (direct flight)
Belo Horizonte - 45min (direct flight)
Brasília - 2h10min (direct flight)
Salvador - 1h30min (direct flight)
Road Distance to Vitória
Rio de Janeiro - 521 Km / 323.73 miles
São Paulo - 822 Km / 510.77 miles
Belo Horizonte - 524 Km / 325.6 miles
Bras&oicute;lia - 1239 Km / 769.88 miles
Salvador - 1202 Km / 746.89 miles
Knowing Vitória
Founding: September 8th, 1551
Location: Espírito Santo, Southeast Region
Population: 320.000 inhabitants
Population of Metropolitan Region: 1.86 million inhabitants
Area: 93,38 Km2
Economic Activity: Foreign Trade services
Climate: Tropical Humid
Annual Average Temperature: Max. 34,4oC and Min. 24,4oC
Height: 12m
Currency: Real
Language: Portuguese
Airport: Eurico de Aguiar Sales, domestic flights
Vitória, as beautiful as ever
Vitória is the second oldest capital in Brazil, a cradle of traditions which are fully harmonized with the city's development. The 93,38-square-kilometer territory is comprehended by an archipelago of 34 islands. The city was founded in 1551 and it is home to 320 thousand inhabitants. Its secular monuments delight visitors an inhabitants, as well as its modern urban projects that enrich even more the city natural landscapes and assure more quality of life to everyone.
History, traditions and flavors
Vitória has been modernized without losing sight of the marks of its historical background. The traditions of the island's fishermen and clay pots craftswomen are kept alive, and the urban landscape preserves secular buildings and monuments, connecting past and present in the same scenario. Its gastronomy is traditional as well. Fish, shrimps and crabs, prepared in clay pots, are the basic ingredients of the Capixaba fish stew and pie, Vitória's main gastronomical references.
The city that even the sea has embraced
Surrounded by a clear and navigable sea, Vitória is the perfect destination for those who like water sports and cruises. Its welcoming port provides to the visitors, who arrive by ship, a beautiful view of the city. Camburi beach, famous for its calm sea, by a steady northeast wind and a wide lane, attracts sailors form the whole country. The rides by the bay and the around the mangroves are options for getting even closer to nature. Vitoria is also internationally known by the fishing lovers.
Welcoming city
Vitória is lighten up by the sun that shines upon its clear-water bay and unveils calm and cozy beaches, ready to welcome both residents and visitors. And when night falls, the joy of the city is revealed in pretty charming bars, coffee houses and nightclubs, where there will always be a smile and a friendly word to new-comers. Vitória also offers varied and sophisticated stores, capable to satisfy the most picky customers.
Come near nature
Parks, squares, gardens and mangroves green the whole city of Vitória. The island has areas of the Atlantic Forest and complex ecosystems, such as mangroves, which are preserved along with the growing of the city. Quiet places for leisure and environmental preservation areas ensure quality of life to the population and contribute to the environmental balance of the city.
An island of business and opportunities
Vitória has a privileged location, therefore, the city has been investing in its vocation for business and event tourism. Vitória is strategically located in the middle of four of the most important States of Brazil, which are bounded together by its modern infrastructure, large hotels chains, and a great and diversified gastronomy. Those characteristics bring to Vitória prominent opportunities for business, events, and international fairs.